The US Open is scheduled to start on August 31
The United States Tennis Association will make a decision about the US Open in June and said it is unlikely it would be held without fans in attendance.
The tennis season was halted in early March with Wimbledon subsequently scrapped for the first time since World War Two due to the coronavirus pandemic.
The French Open was moved from May to September, with all tournaments on hold until at least mid-July.
The US Open is due to take place in New York from August 31 to September 14, with USTA chief executive Michael Dowse admitting they had time to consider their position before making a final decision on the viability of staging the tournament as planned.
Dowse said: "Time is on our side at this point. Obviously our ambition is to run the tournament.
"Playing without spectators, we're not taking anything off the table right now, but to be honest and open, I think that's highly unlikely.
"That's not really in the spirit of the celebration of tennis. It also goes back to the health and well-being of not just the spectators but of our players and support staff that help run the tournament.
"Things are fluid. If the medical experts come back and say here is a foolproof way of running a very safe tournament, unfortunately it has to be without fans, we may reconsider and look at it at this point.
"Today it's just too early to kind of speculate on what the exact specifics will be at that time."
The USTA, which also governs the sport in the country, said it would cut the salaries of its top executives by 20 per cent for the rest of 2020 to raise funds to support American tennis facilities, teaching professionals and grassroots tennis organisations.
Dowse said the emergency funding was not dependent on the fate of the hardcourt Grand Slam, which is the main source of revenue for the organisation.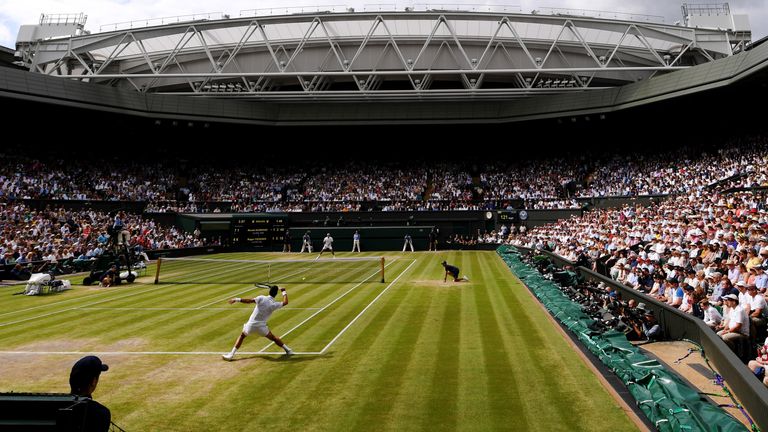 Wimbledon has been cancelled this year due to the coronavirus pandemic
"These plans will hold," Dowse said. "This was modelled off what we know we can do, and then in theory if we can do more, we will try to do that as well.
Source