Taiwan's president Tsai Ing-wen, center right, speaks during a meeting with Swiss lawmakers in Taipei, Taiwan, on Feb. 6, 2023. (Taiwan Presidential Office via AP)
China has more than just historical claims behind its ambitions to take Taiwan, specifically greater industrial production capabilities available on the island as well as an operational foothold in the area that could break up U.S. influence in the region, according to defense and intelligence experts.
"We're talking about a place that manufactures chips, which make the entire world economy move, and … we are way behind when it comes to manufacturing those chips here in the United States," Ilan Fuchs, adjunct professor at American Public University System, told Fox News Digital. "The current administration is trying to catch up, but it's going to take years and years and years to do."
The Chinese Communist Party (CCP) regularly touts its historical claim to Taiwan, looking to re-integrate the country through diplomatic means and, potentially, military action, if necessary. Party officials last summer issued a policy document on Taiwan that outlined a "one country, two systems" approach similar to that of Hong Kong and Macau, which have "special administrative region" status.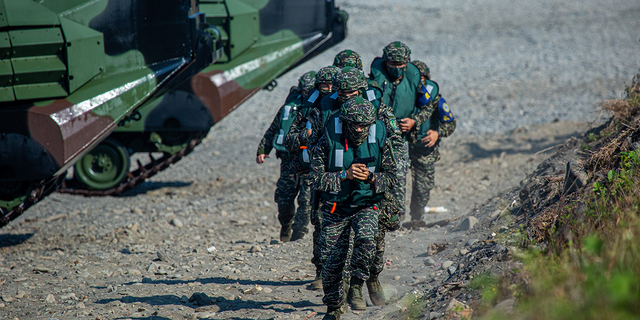 Soldiers disembark from AAV7 amphibious assault vehicles during the Han Kuang military exercise, which simulates China's People's Liberation Army (PLA) invading the island, on July 28, 2022 in Pingtung, Taiwan. Taiwan military launches five days of live fire drills involving all forces of the military to repel simulated attacks from China. (Photo by Annabelle Chih/Getty Images)
((Photo by Annabelle Chih/Getty Images))
But Hong Kong has watched that status mean less and less after the CCP introduced a new security law to punish citizens found guilty of secession, subversion or "terrorism." Critics viewed the law as an effort to restrict opposition within the regions.
BIDEN SAYS CHINA-RUSSIA PARTNERSHIP IS 'VASTLY EXAGGERATED' DURING CANADA VISIT
Military action, therefore, seems increasingly likely if Beijing seeks to take control of Taiwan. Such action might seem extreme to exert a historical claim over a territory, but experts made it clear that Taiwan offers significant advantages economically and strategically.
"If the Chinese can then turn Taiwan into a base of operations, they have direct access to the deep waters of the Pacific Ocean," said Brent Sadler, senior research fellow in naval warfare and advanced technology at the Center for National Defense. "Most of the East China Sea is pretty shallow."
Sadler noted that there is belief that if China can "break" Taiwan, it can break "all the U.S. security alliances that are perceived as a threat."
Fuchs said that what the U.S. needs to worry about is "freedom of navigation," which would change world trade in a way "we can't afford."
CHINESE 'SPY BALLOON FIASCO' REQUIRES FULL REVIEW OF US AIR DEFENSES, DAINES SAYS AT MALMSTROM AFB VISIT
"When it comes to freedom of navigation, that is something that, while it's still debatable as far as its scope … the scope of China's activity in the South China Sea is something we cannot overlook," he said.
"We saw what the problems were after COVID with supply [chain] issues … so, can we really afford to have this major trade just under Chinese control?" Fuchs added. "That is something that needs to be on the top of the agenda for policymakers."
Controlling Taiwan would provide China with another foreign operating base from which to project power in the region, amplifying any other disputes with neighboring countries, according to Emily de La Bruyere, a senior fellow at the Foundation for Defense of Democracies.
"The Taiwan question is constantly at play," La Bruyere, who focuses on China policy, told Fox News Digital. "China is adept at using it in order to pressure the U.S. to allocate resources the way China wants it to allocate resources."
"All China has to do is give a signal, a little bit more aggressiveness vis-a-vis Taiwan and the U.S. will pour money and political capital into sending military support to Taiwan, which risks preventing money in political capital from going elsewhere in the competition with China," she said.
FCC COMMISSIONER WARNS IT'S 'CRYSTAL CLEAR' TIKTOK PUTS AMERICANS AT 'RISK' FOR CHINESE SURVEILLANCE
That ability to manipulate U.S. foreign policy and investment without any actual military action on its part will continue to prove a powerful tool for China, she added.
Matt McInnis, senior fellow for the Institute for the Study of War's China program, highlighted the value in controlling Taiwan's semiconductor industrial infrastructure, which currently produces 65% of the world's semiconductors and almost 90% of the advanced chips.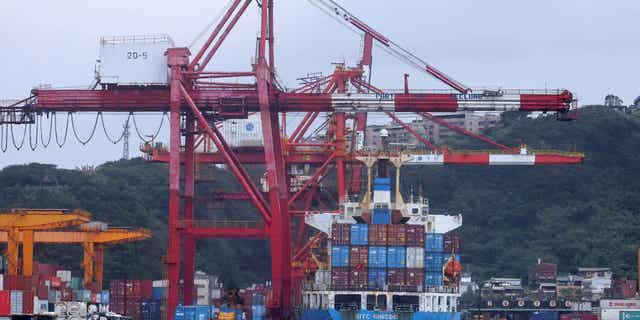 A cargo ship is shown docked at a port in Keelung, Taiwan, on Jan. 7, 2022. (Reuters / Ann Wang)
"If China was able to unify forcefully or account for Taiwan … they would gain the commanding heights of the semiconductor business globally and put the U.S. and our allies in a very difficult position to be able to maintain our current economic activity and, in some ways, maybe even our quality of life," McInnis said.
"The global supply chain for semiconductor production is so interdependent among Taiwan, the U.S., South Korea, the Netherlands, Japan and China," he added. "Capturing [Taiwan], which, of course, makes the most advanced semiconductors in the world … would really shift the balance of economic and technological power globally."